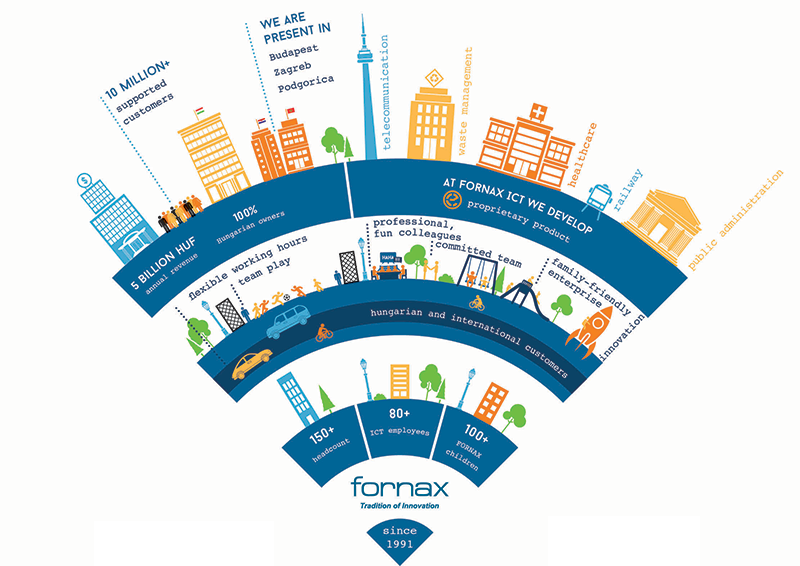 About us
Due to its innovative, bold developments and outstandingly capable team of experts, Fornax Zrt as a member of the Fornax company group has been a player to be reckoned with in the IT sector since 1991. In the early 90s it was the first company to enable the real-time publishing of stock exchange data, which did not only prove to be groundbreaking among IT systems, it also served as a pattern for further innovations.
By the late 90s Fornax was playing a prominent role in the IT market of the Central European region as well, and the continuously increasing presence abroad opened up the opportunity to launch R&D projects. This has not ceased to the present day, and thanks to the initial zeal to experiment and the international contacts that have substantially increased in number, Fornax excels in applying and developing the newest technologies.
In 2013 the reorganization of Fornax provided excellent opportunities for Fornax Zrt. to dedicate its knowledge and professional experience to the support and advancement of innovation and to lend a hand to start-ups. One of the outstanding assets of the company is its team of professionals with expertise int he technological developments of the world, contributing ever more to the market expansion of leading foreign corporations. Fornax Zrt., a 100% Hungarian owned company has always aimed with its courageous and experimenting mentality to keep valuable experts within Hungary – this is one of the factors that has contributed to the continuous growth of our company through 30 years. Beside the research and development activities the company offers complete solutions for any IT requirement that emerges during running a business, should these be related to system integration, network, application operation or support, software development, IT or business consulting. In addition to custom software development, application support and application integration Fornax realizes the specific business and technology ideas of its clients, whether they have to do with customer relationship or internal administration.
During the past years the experts gained a lot of experience and collected numerous references in the areas of custom software design and implementation as well as of the integration of various systems.
When designing and implementing systems they take utmost care that the system should not only fulfil current requirements, it should also be ready for new tasks with as little developer resources as possible by making it flexible and easy to customize and configure.
Since 2003 Fornax Zrt. has been operating in accordance with the ISO 9001 standard quality management system, which is a prerequisite of our operation and a means to deliver high-quality IT and other tasks on time. In 2014 the company was one of the first in Hungary to apply the IT security management system based on the ISO 27001:2013 standard.